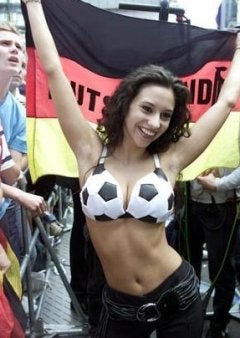 If you're a cop, there probably aren't many things that could happen to you that would be less terrifying than 800 German soccer fans uniting to attack you. That's what a few cops experienced yesterday after a match between Erzgebirge Aue II and Lokomotive Leipzig.
FC Lokomotive Leipzig has a pretty proud history, but the club fell on hard times and went bankrupt in 2004. A group of fans re-established the team, started at the bottom, and they currently find themselves playing in the 7th tier of German football, to which the American equivalent would be... well... we don't really have one. Maybe your company's softball team, or a women's professional football team.
Fortunately, the weaponry of the fanbase reflects their current place in German football. A lot of cops were injured, mostly by cobblestones and concrete blocks. The club has condemned the violence on their website Courtesy of FreeTranslation.com:
The 1st FC locomotive Leipzig convicted the bad occurrences after the country cup-game against meadow II and dissociates itself on the sharpest of these so named "fans"!
If only any of those so-named "fans" could read.
UPDATE 1-Hooligans battle police at cup match in Germany [Reuters]