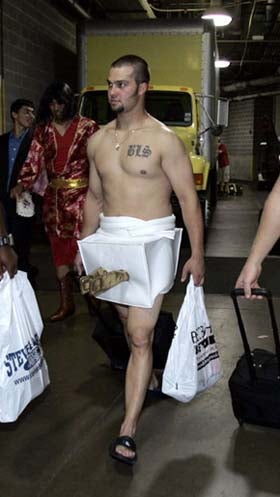 Oakland A's pitcher outfielder Nick Swisher just doesn't have the time to scour bars for leather-clad women in search of a relationship. So he does his shopping by magazine. According to Sports by Brooks, Swisher spied model Danielle Gamba "in a magazine" recently, saw that she was from the Bay Area and had his manager find her and set up a date. The two are now "cohabitating" in Arizona as the A's get ready for Spring Training.
Gamba, a former Raiders cheerleader, was fired by the team in 2003 for posing for a porn site (sorry, it doesn't say which one). She then went on to Playboy. But here's one thing Swisher may not know. Gamba, along with fellow Playboy model Carrie Minter, were once arrested for alleged public intoxication on a San Antonio-bound flight, and then for "making sexual advances" to police in an attempt to avoid the charges.
According to a police report, Gamba and Minter were "yelling and cussing" and were "intoxicated to the point that they were a threat" to themselves and others. Arresting officers noted that the women, who got rowdy on a two-hour Frontier Airlines flight from Denver, had slurred speech, watery eyes, and reeked of booze. Gamba (identified in the report as AP2, or arrested person 2) was also "continually using the word Fuck," while Minter (AP1) "just sat there crying and yelling."
SbB also points us to Gamba's online resume, which curiously mentions none of these things, not even the nude modeling. To which we say, models have resumes? Wouldn't an airline security photo suffice?
Swisher's New (Nude) Dish Is Danielle Gamba [SbB]

Big Busts At San Antonio Airport [Smoking Gun]

Danielle Gamba Resume [DanielleGamba.com]
(UPDATE: Nick Swisher's rep emails us and says this story is "100 percent not accurate." So there's that.)