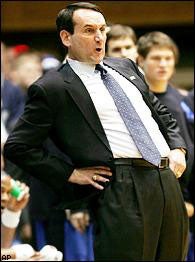 So here's a little factoid for you: Today, February 13, Duke coach Mike Krzyzewski turns 60 years old. It's strange to think of him as that old; not only does he continue to be that irrepressible lovable impish scamp that we all adore, but he also has retained his thick, lustrous black hair. (Because Coach K would never lower himself to dyeing it, never.)
As Coach K enters his seventh decade of life, with his team struggling as it hasn't struggled in a decade, we ask ourselves: How does Coach K do it? How does he remain so full of life and good cheer? How is he able to continue to bring hope and vigor to millions of sports fans every year?
This link answers it: Coach K succeeds and thrives off the innocent, pure, hopeful energy of the blood of children. Nourishing, life-sustaining ... mmm mmm good.
Happy Birthday, Coach K [NBX]
Coach K Will Eat Your Child [Deadspin]