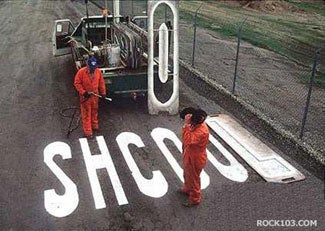 You might have missed it, but something kind of crazy happened in the Buffalo-Bowling Green game last night. (That should be obvious, because it's rather unlikely we'd mention that game otherwise.) We'll let The Futon Report set the scene:
With time running out, Buffalo's desperation shot sailed wide and out of bounds. The buzzer sounded, with the scoreboard reading Bowling Green 77, Buffalo 75. The Falcons retreat to the locker room. But wait, folks! The referees examine the clock via instant replay. Apparently there should be 0.6 second still on the clock. BG is still in the locker room. The Bulls are still on the court, as are the refs. One of the refs enters the tunnel that leads to the visiting locker room. Then returns. BG is still in the locker room. The scoreboard officially says 0:00.6. BG eventually comes out of the locker room. And a technical foul is called. Buffalo's Yassin Idbihi takes the free throws and sinks both. 77-77. The ball is casually inbounded by BG and the two go to overtime.
Needless to say, Buffalo ended up winning in overtime. This is a rare and beautiful way to lose a basketball game, one so special and unique that we expect the Celtics to try it themselves tonight.
Falcons Win Road Game (In Their Minds) [The Futon Report]