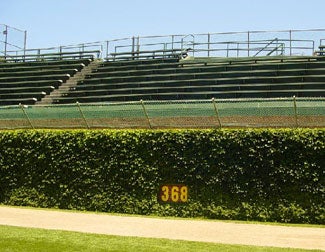 We don't like to think of ourselves as stuffy traditionalists ... but this, friends, just makes us sad.
The Cubs announced a multiyear deal Wednesday with Under Armour, a sports apparel company, agreeing to place its logo and name on the outfield doors. Terms of the agreement were not announced, but the ads will be in place at least through 2008.

By mid-May, the Under Armour ads will be surrounded by the ivy that Bill Veeck helped plant 70 years ago to beautify a ballpark that eventually turned into a baseball mecca. Cubs marketing director Jay Blunk said the skyrocketing cost of player salaries necessitated the change, though he knows the decision may upset traditionalists.
That's right: An Under Armour ad on the Ivy at Wrigley Field. The day has come. Hey, Jason Marquis is gonna pay for himself.
Cubs Show Tradition The Door With Ad Deal [Chicago Tribune] (via Foul Balls)