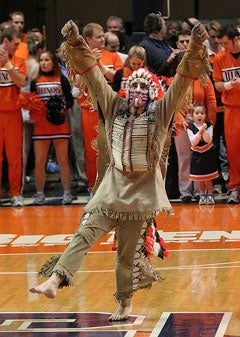 As an old lifer at the Daily Illini, no story was less fun to talk about than Chief Illiniwek. We once had our own personal take on the embattled "symbol" of the University of Illinois, but we don't even remember what it was anymore: It was talked about every day, in the most banal and "emotional" terms, so much that we just couldn't stand it anymore. We wanted the Chief to go away just so people would stop talking about it.
Well, that day has come The Chief is expected to be retired today.
The conversation I have had with University administrators, I got the impression that it's a very top-down decision," the student official said. My understanding is that they are going to remove the dance, keep the name and give the symbol to not-for-profit organizations for scholarships."
We remember, when we worked for the DI, meeting the guy who played the Chief back in 1997. We shook his hand and, we swear to God, the blond-haired, blue-eyed guy said, "I'm the Chief, dude." We figured we could probably do without the Chief then.
They were looking for the Chief for comment this morning, but they couldn't find him. We suggest taking a look in Jamar Smith's car. He's probably sitting in there, freezing, waiting for someone to let him out.
University To Retire The Chief Friday [Daily Illini]
Chief Illiniwek Will Be Eliminated Friday [Illini Pundit]
Trying To Understand The Illini Car Crash [Deadspin]
By the way, this story was broken by a blog and my beloved Daily Illini. You like to see that.