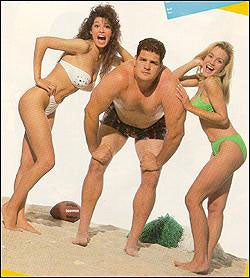 So here's something bizarre and sad. You know that salmonella outbreak that has been tied to Peter Pan peanut butter? (And, to a lesser extend, Wal-Mart's "Great Value" house brand?) It hasn't caused any deaths yet, but almost 300 people in 39 states have fallen ill from it.
Well, one of the people who have fallen ill? "Mike and Mike In The Morning" co-host and ESPN football guy Mike Golic, who announced it on the show this morning. He has been out sick for several days, and today, he confirmed it to co-host Mike Greenberg.
We hope Golic is able to recover from this — salmonella is pretty nasty stuff — and wish him well. Everybody knows that Jif is the best peanut butter anyway. It's what choosy moms choose.
Salmonella Possibly Linked To Peter Pan [Toledo Blade]