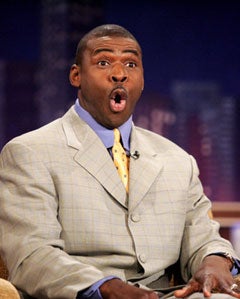 The New York Post, which is never ever wrong, tosses out some potentially fun Michael Irvin/ESPN gossip this morning.
One industry source believes the decision has already been made, and that some at the network view the outspoken Irvin as a ticking time bomb, ready to explode into a public-relations nightmare.

ESPN did not confirm or deny the report, but issued a statement, saying: "We are currently in the process of discussing studio assignments for next season."
As incomprehensible and insane as Irvin might be on television, we have to admit, we would kind of miss him. Possible replacement Bill Parcells just doesn't have near as much fun with ties. Or cocaine, for that matter.
Mikey Irvin Might Already Be Fired [Awful Announcing]