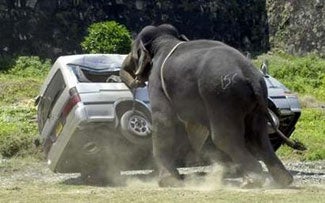 • Goodbye, Mr. Schottenheimer.
• We do love ourselves some dog show.
• This video is what we thought it was, and so much more.
• Fat man dancing! Woo!
• Jamar Smith is about to go the way of Chief Illiniwek.
• It's always fun to play with Craig's List.
• Now your "conversations" are with the Associated Press.
• Chris Berman acknowledges that night nine years ago.
• Look, Daulerio's back!
• Jim Thome doesn't like it when Oprah asks him about douching.
• Rex Grossman ... ladies.
• Seriously, we hope you're OK, Golic.
• Dan Hawkins has much to say about student-athlete time management.
• Joumana Kidd will be heard, and how.
• Oh! All this, and Tim Hardaway too!
All right, that'll wrap 'er all up for us; The Mighty MJD will rock it all out for you all weekend. He's not in Las Vegas, so he should be safe. We'll see you all on Monday.