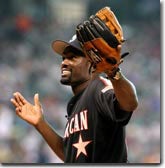 The Smoking Gun continues its public document assault on the sporting world today, releasing an ESPN motion calling for "a protective order" in its ongoing legal battle with Reynolds. What's that mean? It means that it doesn't want its next filing to the court to go public. They're bathing it in the "we want to protect the innocent from exposure" excuse.
ESPN will present certain documents and information that should be protected against unrestricted use and dissemination, including documents and information related to concerns raised by five young women about [Reynolds'] sexual misconduct.
Well, first off, five is an impressive number. We're not sure that's the real reason ESPN wants it private, but they sure got that number five out there, didn't they?
ESPN: Five Women "Concerned" About Reynolds [The Smoking Gun]