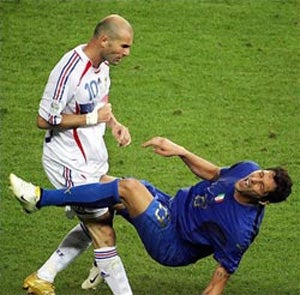 I hate to start you off with soccer today... actually, I don't hate it, but I know you do. Anyway, there's talk again that Zinedine Zidane has started up talks with the MLS again. This from the Soccer Insider blog at the Washington Post:
I told you exclusively here at the Insider earlier this week that talks between the Chicago Fire and French megastar Zinedine Zidane have started up again, and today a reliable source tells me that a decision could be made by Monday. Zidane is interested in restarting his tarnished career, but he wants to do it somewhere far from the European hysteria.
Can't get much farther away than the MLS, I suppose. The Chicago Fire hasn't caused anything resembling hysteria since, well, the actual chicago fire. Of all the cities in America that might come close to actually embracing soccer, I don't think Chicago's one of them. If Zidane and Brad Maynard are waiting for the same table to open up at a restaurant, my guess is that Maynard's getting first dibs.
And there are also some concerns about Zidane's work ethic and commitment at this point in his career. If he makes the move to the MLS, within three years, you'll see him hanging out on street corners, drunk and unshaven, offering to headbutt total strangers in the chest for five bucks.
Zidane MLS Sign Would Eclipse Beckham in Time [Sports by Brooks]
Zidane to Chicago? [Soccer Insider]
Great Chicago Fire [Wikipedia]