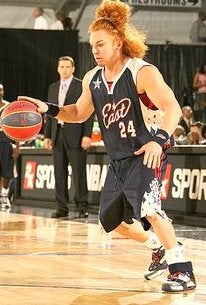 As you might have heard, Reggie Bush suffered a minor ankle injury last night in some sort of lame "basketball" event on ESPN. I don't know who it was he was trying to swat. It was a white guy on the East team, which means it could have been David Arquette, Jamie Kennedy, or Bobby Flay (I think we can rule out Carrot Top).
You may think this game was meaningless, but when you're playing for the pride of the western portion of the United States, no sacrifice is too great. I think it's a testament to not only Reggie Bush's competitiveness, but Wayne Newton's ability to get maximum effort out of his players. Word on the street is that the San Diego Chargers are interviewing him for their head coaching position later today.
Exhibition games this off-season, though, haven't been kind to New Orleans Saints. Drew Brees dislocated his elbow in the Pro Bowl, and now Reggie Bush rolls his ankle in... whatever the hell that was. The only thing left is for Deuce McAllister to suffer a cracked rib in a game of Twister.
Black Running Backs Can't Jump [Foul Balls]
Reasons Why Not To Have a Celebrity Game [Awful Announcing]