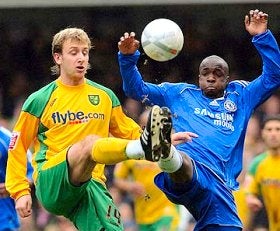 • Arsenal 0-0 Blackburn. A sluggish performance by Arsenal and a couple of amazing saves by Blackburn goalie Brad Friedel (United States, holla) earned Blackburn a rematch of this one in their own building. Friedel got his hand to a Thierry Henry shot, and then got up quickly to deny Justin Hoyte on the rebound. Video here.
• Middlesbrough 2-2 West Brom. There'll be a replay of this one, too, as Middlesbrough just refuses to beat lower level teams in the FA Cup. West Brom, who are on track to be a Premiership team again next year, forced the tie with a couple of come-from-behind goals.
• Chelsea 4-0 Norwich. They struggled a bit in the first half, but the second half was an out-and-out Chelsea ass-beating. They were a little bit lucky to have the lead at the half, after the Canaries (I love that) hit the post, but poured it on in the second half. Wright-Phillips, Drogba, Essien, and Shevchenko were your goal scorers. Chelsea did lose defender Khaild Boulahrouz, though. He's out for about six weeks.
• Manchester United 1-1 Reading. Reading just tied it up on a header from Brynjar Gunnarsson in the 66th minute. About fifteen minutes remain.