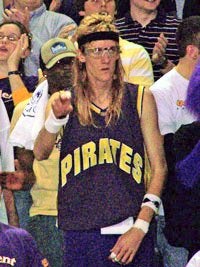 Will told you earlier in the week about the struggles of the East Carolina basketball team, and their fans' plan to show up at the final home game of the year with bags on their heads. As far as I can tell, last night against UTEP, there were no bags (I can find no mention of them)... and the ECU Pirates got their first conference win of the year. Congratulations, Pirates. Way to hang in there. Really.
And to what should the Pirates attribute their good fortune? The Holtz family's love of poetry. Skip Holtz, son of Lou and head coach of the ECU football team, wrote a letter to Pirate Nation imploring them to not wear the bags. The message is something to the effect of, "If Skip Holtz had known you people were the type to wear bags on your heads, then Pirate Nation would have been deprived of the great Skip Holtz." Then, of course, he recited a poem:
This poem has been a part of the Holtz family code of behavior for all of the years I can remember. We have something special here at ECU but it does not take much to divide and destroy:

I saw a group of men in my hometown.
I saw a group of men tearing a building down.

With a heave and a Ho and a mighty yell,
They swung a beam and a side wall fell.

And I asked the foreman, are these men skilled;
The type you would hire if you wanted to build?

And he laughed and said "Why no indeed, common
Labor is all I need. For I can tear down in a
Day or two what it takes a builder 10 years to do."

And I asked myself as I walked away, which of these
roles do I want to play?
Warm and fuzzy. I'm wondering, though, if the Holtz family code of behavior has a poem for when the Minnesota, Notre Dame, and South Carolina football programs are all placed on probation shortly after Lou Holtz leaves.
Solidarity of the Pirate Nation [The Pirate Beacon]
Captain leads Pirates past Miners 79-78 [Pirate Illustrated]
Those Aren't Bags: They're Instruments Of Death [Deadspin]