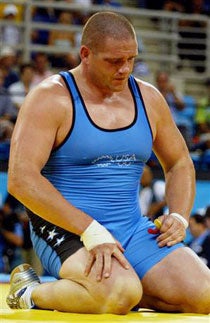 You might remember Rulon Gardner, the Wyoming-born wrestler who came from nowhere and won a Gold Medal in the 2000 Olympics. Since then, he has made his living as a motivational speaker, which is probably why God keeps trying to kill him.
He dislocated his wrist in a motorcycle accident and, most notorious, he had a toe amputated after developing frostbite after crashing a snowmobile. But yesterday, he had his most Unbreakable moment yet: He survived a plane crash.
Gardner was a passenger in a Cirrus SR 22 with pilot Randy Brooks and his brother, Leslie Brooks and the trio was rescued by a fisherman on Lake Powell. "The plane went from 150 mph to none in about two seconds," Gardner said to CNN on Monday morning.

All three men were able to get out of the plane before it sank. Then they were forced to swim for more than an hour in 44-degree water before reaching the shore and spending the night without shelter. Shockingly, none of the men suffered life-threatening injuries.
At this rate, we think it's inevitable that Gardner will be killed by an infected hangnail, one he discovers after jumping out of a plane without a parachute and surviving.
Note To Self: Cancel Hunting Trip With Rulon Gardner [Rumors And Rants]