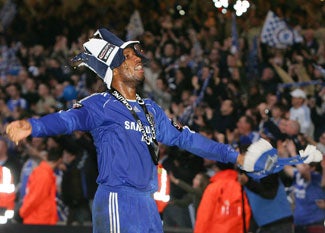 David Hirshey writes regularly for Deadspin about soccer.
It was a truly sickening moment, the kind that makes you avert your eyes from the screen and wish New York State laws didn't prohibit serving beer til noon on Sunday so you could at least cauterize the pain with alcohol.
I'm referring, of course, to the moment, during yesterday's Chelsea and Arsenal smackdown, when Cesc Fabregas was hit in the head by a flying wedge of celery. If you've never been beaned by a crisp stalk , I can tell you from experience — I was once on the losing end of an epic fraternity food fight — that it smarts. Maybe not as much as getting smashed in the face by the full force of Abou Diaby's boot, as John Terry learned yesterday, but enough to throw the young Spaniard off his rhythm — witness his weak-ass corner kick — and signal the end of Arsenal's dominance.
Now we know that in addition to being self-satisfied tarts, Chelsea fans are also a bunch of perverted vegans who rely on celery for their sexual potency . Or, as they so cleverly serenaded Fabregas while pelting him with leafy missiles in the 45th minute:
Celery, Celery,
If she don't come,
I'll tickle her bum,
With a lump of celery.
(more after the jump)
Up to that point, Chelsea's big, brutish first teamers had looked dazed and confused as Arsenal's fetuses (average age of midfield: 18) blew by them in a blur of one-touch passing and lightening movement off the ball. Who needed Henry, Rosicky and Gallas when you had Walcott, Diaby and Denilson playing with the nerveless insouciance of a pub team on a Sunday morning kickabout?
Walcott, in particular, seemed hellbent on using the Carling Cup stage to prove that he is not Aaron Lennon Lite. The most hyped teenager in English football has struggled to live up to the massive expectations of his inclusion in the World Cup squad, but yesterday, at least for the first half, he looked every bit the potential star Wenger promises he will be. Whooshing down the right flank, he ran onto a clever thru ball from Diaby and cooly placed it under the onrushing Cech to give Arsenal a 1-0 lead in the 11th minute. At that moment, it was entirely possible that Wenger had replaced Mourinho as the smuggest man on the planet. Hey, Jose, shove that up your Armani coat, s'il vous plait.
Oh, how easy it was to fantasize then — especially if you were in a Vicodin-induced fog like I was from recent knee surgery — that the baby Gunners, with Fabregas and Diaby bossing Lampard and Ballack in midfield and Terry laboring to keep up with Walcott and Alidiere, would be lifting the first of many trophies in their inexorable march to world domination. The problem was, Arsenal, for all their pace and skill, had no one to cope with Drogba.
Forget Christiano Ronaldo; there is no better player in the EPL this season than the Ivorian hit man, and once he got a half-step on his marker, the hulking Swiss defender Senderos, you knew he would equalize. It was his 27th goal in all competitions, and Chelsea would be Bolton without him. Realizing Arsenal's kiddie corps was not about to genuflect in front of all his glamorous millionaires even with the game deadlocked at 1-1, Mourinho brought on Robben after the break. It is one of the great mysteries of the soccer universe that the Special One persists in leaving the souped up Dutch attacker out of his starting lineup because the Blues roar to life whenever he's marauding down the flank. All of a sudden, the young Gunners were chasing the game and flailing around in defense. That led to the horrific sight of Diaby, trying desperately to clear a corner, accidentally mistaking Terry's face for the ball, as Captain Courageous stooped to head goalward.
I have never been in a bar in which you could hear a Irish sausage drop but that's how eerily silent it was at Kinsale when Terry was stretchered off unconscious in a neck brace and oxygen tent. The boisterous, packed crowd was equally divided between Chelsea and Arsenal fans, but in this scary moment, everyone froze, chastened by the memory of Cech's skull fracture earlier this season. It was only when it was announced that the Lazerus-like Terry had regained consciousness on the way to the ambulance that I thought "Wait a minute, isn't this the same John Terry who on Thursday had suffered an ankle injury that was going to keep him out for six weeks and here he is playing three DAYS later? Who's to say he won't be back for the last twenty minutes?"
Not that Chelsea needed him. They had Drogba, and in the 85th minute, he sent Chelsea into the lead and Senderos into therapy by outjumping the hapless defender to glance in Robben's perfectly weighted cross. Rattled first by the flying vegetables, then traumatized by thinking they had caused a grave injury to a great player, the young Gunners finally acted their age in the frantic closing minutes and lost both their cool and the game. The 14-player brawl in stoppage time, reminiscent of the Knicks-Nuggets melee, was simply a reflection of their frustration, and though it was Toure and Adebayour who were sent off, it was Fabregas who played the Nate Robinson role and had to be hauled away in a half-nelson to keep from going after Lampard.
Standing toe-to-toe with the England midfielder who he had undressed for much of the game, you could almost read his lips: "You won the game, you fat shit, but the future is ours"