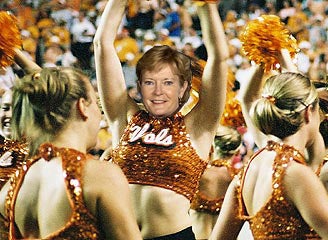 Note to Bruce Pearl: There's such a thing as overselling an event, as may be the case tonight when Tennessee women's basketball coach Pat Summitt is supposed to appear at the men's game against No. 5 Florida and "do something special." Pearl (personal motto: Dignity, Always Dignity), the Tennessee men's coach, painted himself orange and cheered in the student section for the women's game against Duke on Jan. 22. And he says that Summitt, the winningest basketball coach in NCAA history, is going to go quid pro quo. And he gets his point across in this chilling paragraph:
"I think (fans) are going to love it, and I think America is going to see a side of Pat Summitt that they haven't seen in a long time."
Pearl has been going on and on about this to the point where anything short of Summitt showing up in a Madonna cone brassiere, nailed to a cross and firing rockets from her nipples is going to be a letdown. Pearl went topless in his January stunt, which was frightening enough, and of course led to the university installing exit signs at Thompson-Boling Arena in a larger font. As for Summitt's mysterious plans, as long as underwear is included we should all be OK.