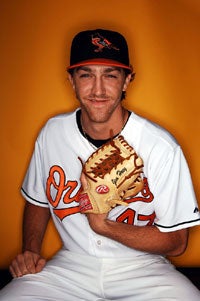 You might remember, from back at the beginning of the NFL season, when we previewed each team by having a writer we liked write about their favorite team.
Well, we're just more than a month away from the start of baseball — spring training is here! — so it's time to do the same thing in the baseball world. Every weekday until the start of the season, a different writer will preview his/her team. We asked a gaggle of writers, from the Web, from print, from books, to tell us, in as many or as little words as they need, Where Their Team Stands. This is not meant to be factual, or dispassionate, or even logical: We just asked them to riff on why they love their team so much, or what their team means to them, or whatever.
Today: The Baltimore Orioles. Your author is Matt Pitzer.
Matt Pitzer is the fantasy football expert for USA Today Sports Weekly. His words are after the jump.
———————————
Another item on my distressingly long list of reasons I know I'm getting old is that it is harder and harder every year to remember when I would get excited for an Orioles season.
OK, maybe my memory is just shot, but having to hit BaseballReference.com just to find your team's last winning season (1997, if you're wondering) is depressing — especially when you also realize that that was six years before than the Kansas City Royals' last winning season.
Now I'm supposed to get amped up about middle relievers? Sorry, Peter Angelos. Count me out. I can't play this game any more. Maybe my team will be better than three others. But better than the rest of the league? Make the playoffs? I can't even put on a game face for that argument anymore. This club has no chance to compete, no chance to make me rabid again.
Wow, Aubrey Huff is coming in to save the day. The Orioles shelled out a ton of cash to shore up a decrepit bullpen. There are two more can't-miss pitching prospects. It all sounds like it's shaping up as another June swoon.
Look, the Orioles tied up $42 million over the next three years to acquire what they think is a solid group of middle relievers. Most of the rest of the baseball world laughed because they know a lot of these guys are year-to-year buys. So when Danys Baez craps out a year-and-half from now, the Orioles will use that $19 million contract as an albatross and an excuse for dumping the big contract of a productive player such as Miguel Tejada. Sorry, that's just what you know to expect when you're stuck with a joke of a front office.
That front office got its knickers in a bind because the Orioles lost 18 games after being tied or leading later than the sixth inning last year. OK, let's say this $42 million bullpen cuts that number in half. The Orioles pick up nine wins — and now they're only four games under .500.
And all that requires is a pitching staff to kind of, sort of hold its own. Erik Bedard and Adam Loewen do truly look like real prospects, and they could be the backbone of a contender if, you know, the Orioles ever had a winning record again. But there's Kris Benson learning (in February!) that he'd miss most or all of the season with a bum shoulder. That means the other three starters are Daniel Cabrera (shiver), Jaret Wright (that's a joke, right) and Steve Trachsel (OK, that's the joke, right).
Maybe this whole hair thing will help. Kevin Millar was one of the ringleaders when those wacky Red Sox were winning a World Series. He's trying to make the clubhouse fun and all. Jay Gibbons supposedly hasn't cut his hair since September, and Brian Roberts grew a beard. Because that'll make him tough. Of course, there is a little team grooming policy to worry about so a lot of that hair will be gone.
At least Miguel Tejada is still around and apparently happy he has not been traded. He has the potential to be a regular force in the lineup and regularly can drive in guys like Roberts and Melvin Mora, if they're healthy and getting on base like they can. Huff might help Tejada some, but if a guy who drove in 100-plus runs in back-to-back years is not good enough for the Devil Rays, why should the Orioles think he will be the offensive plug that this team needs?
There used to be a time when you actually got excited about the Orioles, when guys like Cal Ripken made you eager for April. Now it's all just memories. Hank Bauer died this offseason; he took the Orioles to their first title back in 1966. Ripken was chosen for the Hall of Fame, and there still is hope that he'll figure out a way to buy at least part of the team.
If that were to happen, and even if Ripken were no more suited to being an executive than Michael Jordan is, at least there would be something to get excited about. As things stand, this is an utterly forgettable franchise.
When is the NFL draft?