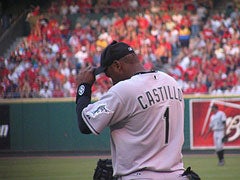 Last week, Twins second baseman Luis Castillo was scheduled to receive his yearly physical from team doctors. But he kept wanting to delay it, much to the confusion of team officials. Twins manager Ron Gardenhire helpfully explained.
I think Luis will be fine, but he had a rough day today. Not normally what we like to see. He was scared to death he was going to get the finger [exam from the doctor], and I think it totally flabbergasted him.
Somehow, we wonder if Tim Hardaway ever had this exact same issue. We doubt he handles the "turn your head and cough" inquiry well.
Breathe Easy, Luis Castillo, Breathe Easy [10,000 Takes]