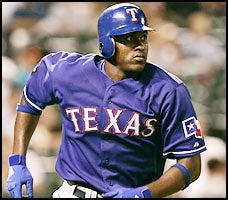 You know that amazing catch Gary Matthews Jr. made last year, the one that inexplicably earned him a ridiculous contract in the offseason? Done through 'roids!
A downtown Orlando pharmacy was raided by a law enforcement task force on Tuesday, the climax of a large New York state grand jury investigation into Internet drug sales that could expose widespread illicit steroid use by professional athletes and thousands of people across the nation.

The customers include Los Angeles Angels centerfielder Gary Matthews Jr., according to sources with knowledge of the investigation.
More names are expected to come out in the coming weeks. The investigation focuses on an Internet copy, which means somehow, Jay Mariotti's gonna figure out a way to blame this on the blogs. We're sorry for selling steroids to all your children, everybody.
Albany DA Raids Fla. Steroids Center [Albany Times Union]