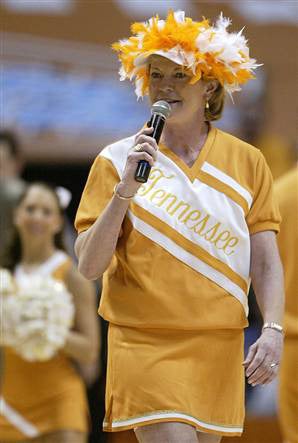 Whether she was channeling Bruce Pearl or Minnie Pearl, Pat Summitt's antics before the Tennessee men's game on Tuesday was the least offensive aspect of the evening, as it turns out. When one considers that Dick Vitale was there, and that Peyton Manning was in the crowd singing, viewers should consider themselves lucky that the cameras focused mainly on Summitt.
The Tennessee women's coach came out in a dowdy cheerleader's outfit, sang a verse of "Rocky Top," and then climbed atop a wobbly three-person "pyramid" as the big finale. It was payback for men's coach Pearl leading cheers at a women's game the month before. All in all the bit showed the same bland determination that has earned Summitt 940 career victories and a seventh SEC Coach of the Year award earlier that day. The whole thing was kind of what you'd imagine Aunt Bee might have dreamed up in her capacity as chairman of the Mayberry Founder's Day entertainment committee.
By the way, did anyone notice that the Volunteers beat Florida, 86-76? Gators are kind of falling apart a bit.
Summitt Sings 'Rocky Top' As Cheerleader [NBCSports]
Falling Fast? Florida Loses To Tennessee [MSNBC]
Ready For Some Good, Old Fashioned College Basketball Nightmare Fuel? [Deadspin]