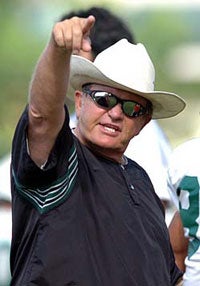 So you know how Jerry Glanville is now the defensive coordinator at Hawaii? That's a job that has always made sense; if you've made your money in football, and still want to be a part of it but don't want to live the insane, 20-hour-day of the modern coach, kicking back and coaching defense in Hawaii seems like a good way to go. Well, it looks like Glanville wants to be a head coach again, and he's interviewing this week with ... uh ... Division I-AA Portland State University. Really. He appears to be really into the whole thing too.
You've got to find out what the total commitment is. Jerry Glanville can not come here and win one football game. If Jerry Glanville comes here it's the power of we over me and if you get everybody grabbing a hold of that rope and pulling in the same direction and you have a support group that's going to turn this into something special that it should be then you're very interested. Now in turn, they may talk to me and not like me. Nobody's offered me this job. They may say that guy's crazy, which is borderline half right.

Why can't we get 20,000 people five days every year to guarantee me that were gonna be on your worst behavior. I can walk into a high school and tell a kid if you come to this game, no adult will tell you to sit down and shut up we'll tell you to bring the roof down. Let's have some fun. We can turn this into Green Bay, Wisconsin for I-AA football.
The Green Bay for I-AA football. Now there's a goal! Actually, we think Portland State is to college football what Jerry Glanville's Pigskin Footbrawl is to legitimate football video games. Take the job, Jerry! What could possibly go wrong?
Glanville Radio Transcript; Must-Read Articles [OregonLive]
Jerry Glanville's Pigskin Footbrawl [AllGame.com]
(UPDATE: YES! He's taking the job!)
(SECOND UPDATE: Ha. The Run And Shoot was invented at Portland State. Makes sense!)