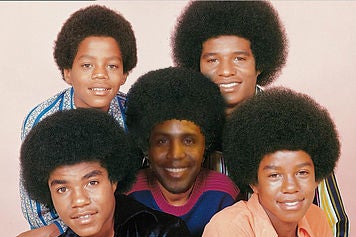 The most telling exceprt from KGO radio's big interview with Barry Bonds on Tuesday? It wasn't that Bonds has apparently been getting death threats (there's enough nuts out there to make that sadly inevitable). Nor was it that Bonds says he feels "exhausted" (honestly, when hasn't he?). We're not even surprised that KGO's Ray Taliaferro spent 90 minutes with Bonds and didn't ask him one question about steroids or amphetamines (Ray's not the sharpest tool in the Bay Area broadcasting shed). No ... what really got our attention was this Bonds quote:
"When we were young me and my brothers wanted to be the Jackson 5. We thought we were the best group on the planet, but we didn't have any vocals."
Let's see: Matching up the relative ages, that would make Barry ... Jermaine, we believe. They could have been big, but their dad, Bobby, just wasn't around enough to crack the whip. "Barry! You came in late on the chorus, goddamn it!"
Good Times With Barry [SFGate]
Bonds Says He Receives Death Threats [SFGate]