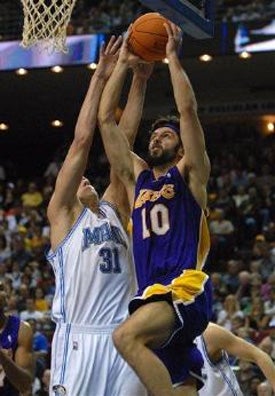 Notes on Thursday's games in the National Basketball Association ...
• Fresh Powder Costs An Athlete Once Again. It's our opinion that the general public will never fully embrace the NBA until the league cracks down on all the unauthorized snow sport activities. On Thursday Lakers' forward Vladimir Radmanovic was fined for snowboarding, sending a harsh message to the rest of the league (Malik Allen drops snow saucer with an audible clank!). Radmanovic separated his shoulder while snowboarding on Feb. 17, a violation of his contract (man, those things must be very lengthy and specific). The amount wasn't disclosed, although the Seattle Post-Intelligencer is reporting that it's $500,000. Yikes. From the MSNBC story: "Radmanovic initially told the team that he sustained the injury when he slipped on a patch of ice and fell" ... leaving out the part about the mountain and the chair lift. Actually, though, we'd be just as willing to pay to see a 6-foot-10 guy crash while snowboarding as we would to see the Lakers play the Grizzlies. Anyway, to make him feel better, why not send him one of these?
• Maveriffic. LeBron James had 39 points for the Cavaliers, but it wasn't enough to stop our new Dallas Mavericks overlords, who claimed their 14th straight win, 95-92. James missed two free throws and a pair of 3-pointers in the final 14 seconds.
• Paul Allen Puts The Hammer Down. Still reeling from the news that general manager Steve Patterson had just resigned (who?), Portland stopped Charlotte 127-90 behind rookie LaMarcus Aldridge's 30 points.
• And In College Scores ... Meanwhile, a few miles north, Rashard Lewis picked up the slack for the injured Ray Allen with 31 points to lead Seattle over the Clippers 77-75.