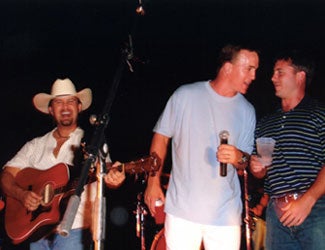 You know, when you're talking freewheeling, classic sketch comedy, well, jeez, you're obviously talking about Peyton Manning.
That's right, Mr. Charming Plucky Affable Comedic Stylist Peyton Manning will be hosting "Saturday Night Live" on March 24, which is sure to be a combustible ball of hilarity. Expect jokes about ... uh ... well ... whatever the funny parts of Peyton Manning are.
Here's all we really want: A replay of the famous Joe Montana "I'm going to go upstairs and masturbate" sketch. We are not holding our breath, however. And no: The musical guest is not Kenny Chesney. Sorry.
Thankfully, "Saturday Night Live" is absolutely still relevant and will therefore find all kinds of great new ways to maximize Manning's comedic potential.
Peyton Manning Will Turn 31 By Hosting Saturday Night Live [Loser With Socks]