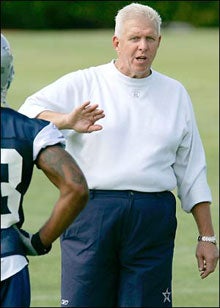 As pretty much everybody knew already, Bill Parcells is trading spending his days with Terrell Owens for the chance to spend them with Chris Berman. We'd call that "a lateral move." Parcells is happy to be back in Bristol.
"I did consider one other [network offer]," said Parcells, without identifying it. "But at the end of the day, I just thought ESPN was best for me. I really like the people there. I have personal relationships with seven, eight, nine of them already."
In addition to hanging out on ESPN GameDay — most likely with upcoming hire Emmitt Smith — Parcells will also be hosting a Friday night radio show with Chris Mortensen, whom he will beat up. We always liked Parcells on ESPN, so we're happy to see him in Michael Irvin's spot. We just hope nobody sticks a cheeseburger in between him and Berman; that would be a very dangerous place to be.
Parcells Climbs Into Broadcast Booth [Ft. Worth Star-Telegram]
Parcells' Tits To Be Back On Camera [Girls Gone Sports]