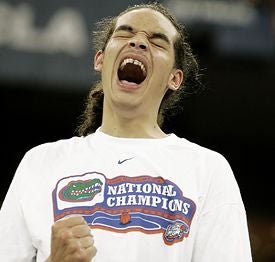 Florida spent the first ten minutes of the game handling the ball like the handsome gentleman who spent so much time attempting to fix the net. They looked extremely uncomfortable to start the game, turning the ball over and being totally out of sync.
Oregon couldn't make them pay and put them in a hole, though. They never opened up much of a lead, and at about the 7:00 mark, Florida went on a mini-run and took the lead, which they have yet to relinquish. They take a 40-38 lead to the half.
While James Brown and Len Elmore try to get a handle on the magical ability of Lee Humphrey's jumpshot to obliterate nylon, Aaron Brooks has 14 for Oregon, Humphrey has 14 for Florida, and Oregon's Malik Hairston, described by James Brown as having a "nice package down low," and I couldn't agree more, has 12. Florida's trio of Noah, Horford and Brewer has combined for 12. And yet, Florida leads.