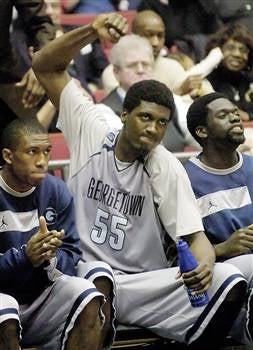 That was a lively little half of basketball. The pace, you'd have to think, favors North Carolina. There are 94 points on the board already, a total that has to be as uncomfortable for Georgetown as the 27 dogtags that Patrick Ewing Sr. is wearing.
Fouls are going to end up being a story on this one, too. For Georgetown, Hibbert (who could have 3 or 4) and Sapp both have 2, and the child who may have been conceived at the Gold Club has has 3. Brandan Wright and Tyler Hansbrough both have 2 for the 'Heels.
There are times when Roy Hibbert seems like he's playing against 9 year olds or Joey Dorsey out there. Hansbrough and Wright are more than holding their own, though, outscoring Hibbert and Jeff Green 24-19.
I'm hoping that at least one of these Elite Eight games will be close at the end... if that's going to happen, though, Georgetown's going to need to slow the pace and actually let the shot clock get below 20 every now and then.