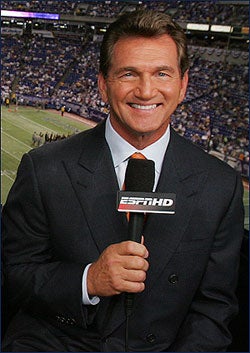 Over the weekend, Pro Football Talk reported that everybody's favorite mathematician Joe Theismann was likely out as Monday Night Football "analyst," with his likely replacement being the infinitely superior Ron Jaworski. Today, The New York Times gets in on the act, confirming it with ESPN sources. And now ESPN has confirmed it as well, publicly.
A Super Bowl-winning quarterback with the Redskins and ESPN NFL commentator since 1988, Theismann, 57, was apparently informed of his removal on Friday. But Newsday quoted an ESPN spokesman as saying "we have nothing to announce."
As anyone who has listened to Theismann talk over the last few years knows, this was a long overdue move. (We hope that Theismann kid can land on his feet.) We're not sure Jaworski is necessarily going to make Tony Kornheiser any better ... but it certainly can't hurt.
Theismann Out Of MNF Booth [New York Times]
But Who Will Exchange Witty Banter With Jim Belushi? [Deadspin]