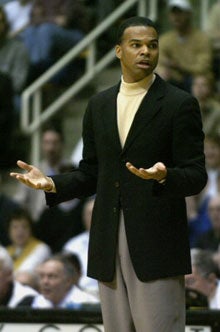 Tired of spending your days staring at the clock and waiting for the day to end? Hate your boss? Looking for new employment? Well, have we ever got the job for you: Michigan basketball coach! Here's the listing from the NCAA homepage:
he University of Michigan Head Men's Basketball Coach. The University of Michigan invites applications for the position of Head Men's Basketball Coach. This position entails the leadership of all phases of the men's basketball program. Responsibilities include, but are not limited to; coaching, the recruitment of qualified student-athletes, support of the academic progress of student-athletes, budget management and community relations. Minimum qualifications: Bachelor's degree required. A thorough knowledge of NCAA rules and regulations is required. Preferred qualifications: Graduate degree. Previous collegiate head coaching experience. Review of applicants will begin immediately.
The ad doesn't mention the downsides, namely, the intense pressure involved in pushing a team deep into the NIT; the early-round exit this year just won't cut it.
Michigan basketball Coach Ad [NCAA.com]