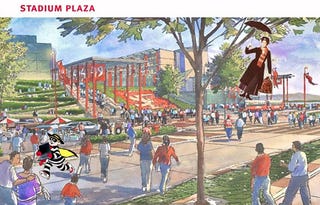 In a perfect world, the 49ers would have a sparkling new stadium near Candlestick Point. There would be parks and open markets and milling shoppers, and ample free parking for all. Also, Alex Smith would never, ever be sacked. These are things as San Francisco mayor Gavin Newsom sees them, and he's determined to make the dream a reality. See? Drawings! It's all part of the city's new stadium proposal, which comes in response to the team's latest rumblings about moving to Santa Clara.
Of course, for accuracy's sake, we've taken a couple of liberties with the drawing above, adding Mary Poppins to represent the area's notorious, vicious wind. And of course that's the Hamburglar there to the left, because this is, after all, the Hunters' Point district, which has a high crime rate. Hmm, seems he's nabbed himself a laptop.
But hey, they laughed at Guggenheim, too. We hope it all works out.