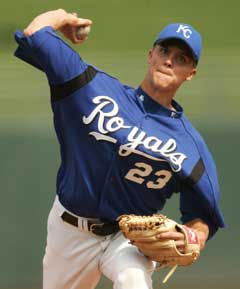 Last year, the mystery depression that clouded the mind of Royals pitcher Zack Greinke confounded teammates, coaches and fans. The man Baseball Prospectus once called "the future of pitching" was off the map. He has been in spring training this year and has even won a spot in the Royals' rotation, not that like that's too difficult.
We don't know Zack Greinke, but we have heard some interviews with him from 610-AM sports radio in Kansas City, and, well, we find it difficult to imagine that he's plagued by existential dread and angst. That is to say: We're not sure the elevator goes up to that floor.
First, last year's famous "he cried when he hard Brad and Jennifer broke up, and then this week's gripping discussion of whatever the heck Greinke says with his slackjaw cadence.
We wish Greinke well with whatever plagues him, and wonder if he knows how to read.
Zack Greinke, 2006 [The Da Show]
Zack Greinke, 2007 [The Da Show]