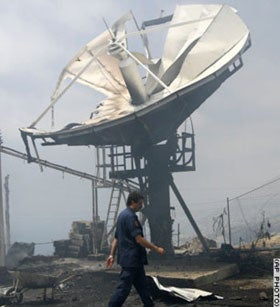 So, it's pretty much set in stone now: If you don't have (or can't get) Direct TV, you're shit out of luck.
Senators spent two hours urging Major League Baseball and TV executives not to let the Extra Innings pay package land exclusively on DirecTV's satellite system. But despite congressional brush-back pitches — warnings of legislation and even the oft-repeated threat to review baseball's anti-trust exemption — MLB President Bob DuPuy didn't flinch.

DuPuy would not agree to extend the negotiations into the season, allowing cable and the Dish Network to carry Extra Innings while talks continued. "We as a business matter view the Baseball Channel as critical to our long-term survival and the interests of our fans who want more baseball,'' he said during the two-hour hearing.
So, it's all over, kids. We can't wait until the Cardinals play the Astros over the second weekend of the season, and Albert Pujols steps in with the bases loaded against Brad Lidge, Cards down by one, two outs, and here's the pitch ... buffering ... buffering ... buffering ...
Baseball Holds Its Ground [Chicago Tribune]