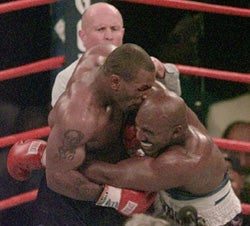 We learned long ago never to try to intervene in a bar fight between Bulgarian soccer fans shouting pro-Turkish remarks at a group of supporters of the Greek national team. It's just common sense, really. One unfortunate bartender, however, learned this lesson the hard way when he got into the middle of such a melee and had both of his ears bitten off.
"I tried to split them up and ended up on the floor with one of the Bulgarians biting one ear and another one chewing the other ear off," Tsibibakis told state television on Wednesday from hospital. "I need to have plastic surgery. Doctors told me they cannot just stitch them back on," Tsibibakis said. "At least I still have the pieces that were bitten off."
So to recap, dogs performing life-saving medical procedures, people chewing off each others' appendages. Sounds about right. And it could have been worse, we suppose.