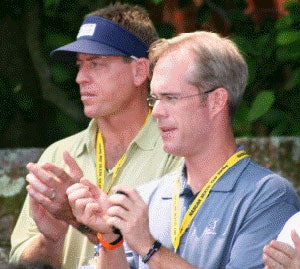 So here's an inventive idea, straight from our Jack Bauer-torturing friends in China: Rather than slapping corporate logos on the players, just slap 'em on the announcers.
Chinese shoe and apparel brand Li Ning couldn't compete this time around for the rights to sponsor China's Olympic team, so what did the company do? They signed the reporters and announcers. In a groundbreaking deal, reported by the China Daily, all hosts, hostesses and reporters on CCTV's sports channel will now wear clothes with Li Ning branding on it through 2008.
Frankly, the NCAA Tournament isn't too far from this already, with Greg Gumbel constantly thanking "the NCAA corporate champions at Coca-Cola" every time he shows an Alando Tucker highlight from four months ago. But we love the idea of someone tattooing GEICO on Joe Buck's forehead.