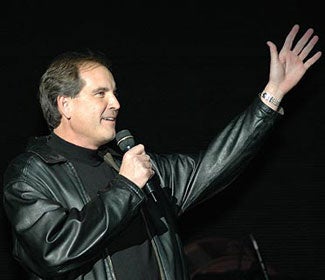 With the official Week Of Jim Nantz just around the corner — starting Saturday, Nantz is about to take a starring role in all your nightmares — we are reminded that Nantz, right now, is probably sitting in a hotel room in Atlanta, jotting down puns and single entendres based on which ever team wins the national championship on Monday night.
His two big highlights from the last few years:
• "It started in March, ended in April, and belonged to May." (When North Carolina won in 2005.)
• "UConn, you can." (When Connecticut won in 1999.)
So, what will he come up with this year? Our favorite suggestion from Complete Sports is "By 'Georgetown,' the Hoyas are the champions." He's absolutely using that if they win. Dork.
Predicting Jim Nantz's Play On Words [Complete Sports]
(UPDATE: Ack! Nantz is wearing our jacket! Though his is cleaner.)