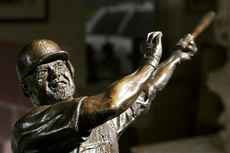 See, this is why you should hold off of bronzing your players until they've been retired for a while.
The Cardinals commissioned the statue after McGwire hit 70 homers in 1998, obliterating Roger Maris' 37-year-old record. There's a place set aside for it alongside other mini-monuments to Cardinals legends outside Busch Stadium.

But the bronze is draped in cloth, hidden in a downtown warehouse. Its place in the limelight has been thrown into question, like so much of McGwire's legacy, by suspicion that steroid use enhanced his career.
The Cardinals say their statues are just for Hall of Famers, so when McGwire makes it to the Hall of Fame — cough, not bloody likely, cough — they'll take the statue out of mothballs. (Do statues require mothballs? We doubt it.) Of course, the Cardinals have already named the stretch of interstate outside Busch Stadium "The Mark McGwire Highway," though they'd probably like to take that one back too. They really should name it after Willie McGee and be done with it.
Cardinals Keeping McGwire Statue In The Dark [Steroid Nation]