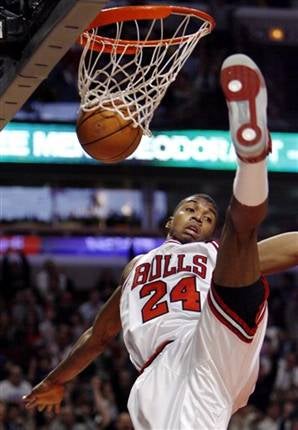 Notes on Thursday's games in the National Basketball Association ...
• Let's Hear It For The Second City. Kirk Hinrich provided some drama with 2.8 seconds left in the game, missing his first free throw and then making his next two, giving Chicago an 83-81 win over Detroit and clinching a playoff berth for the Bulls for the third straight season. Ben Gordon led the way with 25 points. Hinrich was fouled by Carlos Delfino on a 3-point attempt, leading to the free throws. But don't take our word for it; check out Bull Riding, which live-blogged the game. Our favorite line: "5:45 left — Craig Sager looks like a plum."
• Give Elgin His Props. Good column today at SFGate by Scott Ostler on Elgin Baylor, one of only four men in NBA history to have scored 50 or more points three games in a row. Baylor holding the ball on the wing was like a balloon about to slip out of your fingers as you're blowing it up. No two drives were alike. He learned the game on the playgrounds of Washington D.C. and he had a bag of tricks — pumps, twists, spins, glides — that nobody had seen before and nobody knew how to stop. ... That was a half century ago. Now Kobe and LeBron do things that Baylor didn't do. They are the latest and greatest in a long line of creative acrobats, and it all started with Elgin.
• Shootout At The Oracle. Big excitement in the Bay Area after Golden State toppled Phoenix 124-119, shooting in front with a 45-point first quarter and then holding on in the fourth. Jason Richardson had a franchise-record eight 3-pointers and 36 points for the Warriors, who moved within one game of the Los Angeles Clippers (for which Elgin Baylor is the GM) for the Western Conference's final postseason spot. It would be Golden State's first playoff berth since 1994. And are we reading this correctly? Did Golden State of Mind call this upset by the exact point margin? Those boys are haunted.
• Ah, Griz. If we were the betting type, we would have wagered everything on Memphis not winning back-to-back games this season. We would have lost. The Grizzlies made 35 of 36 free throws and rookie Tarence Kinsey had 20 points in a 96-92 win over Portland on Thursday. All of this has delighted Beale Street Beat no end, as one might imagine.