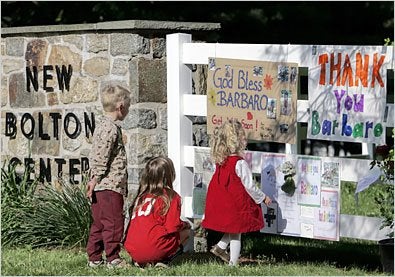 Two months after he cantered off of this mortal coil, further proof that the Barbaro phenomenon is still bigger than all of us.
Michael Matz could have another horse for the Kentucky Derby this year, yet nothing can replace his memories of Barbaro. The trainer made that perfectly clear Thursday morning outside his barn at Palm Meadows training center, when he pulled an envelope from his car and shared a letter sent by a young boy from Namibia. "He's 10 years old, he's an orphan, and he has AIDS," Matz said, his voice cracking with emotion. "He knew about Barbaro."
If Barbaro had lived just another year longer, we're convinced we would have achieved world peace. Oh, and there's still a Barbaro message board in operation at Tim Wooley Racing, by the way, where things have gotten very, very weird lately. It's like with Barbaro gone, there's a vacuum out there, with all these different factions of crazy vying for supremacy. Thank God for baseball season.
Matz Is 'Never Going To Be Over Barbaro' [MSNBC]
Barbaro Lives On Through Snack Food (But Not In The Way You're Thinking) [Deadspin]