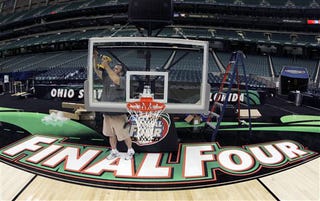 After what seemed an interminable week off, we're finally back moving with the NCAA Tournament tomorrow night, and we kind of can't wait: After last year's wretched Final Four — three lousy games — we should be in store for some double-plus pleasantness.
We are fortunate, too, because in about an hour, we're boarding a plane to good ole Atlanta; we'll be at both Saturday's and Monday's game(s). Our seats are way up in the rafters, but we're not gonna let that stop us from painting our face.
MJD will take you through the weekend's action while we're shuffling back and forth between various Atlanta Applebee's.