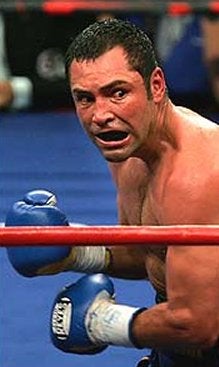 I'm not an expert on boxing training techniques, so I don't know if this is a common practice or not ... it's hard for me to imagine, though, Mike Tyson training for a fight by getting a full body nude "greasedown massage" from a fellow named Freddy Roach, and then engaging in non-ejaculatory sex.
These are the methods preferred by Oscar de la Hoya, though. Between now and his May 5th fight against Manny Pacquiao, Oscar de la Hoya's testicles are going to become very angry. BlackSportsOnline.com spent a week with Oscar and documented his training habits.
3:00 to 4:00 pm - Family time with wife Millie Corretjer. According to one of Oscar's entourage, Oscar enjoys non-ejaculatory sex with wife (rejuvenates the spirit). Freddie Roach does not discourage sexual contact during training as long as the fighter does not climax or reach orgasm. Roach declined to comment on exactly what Oscar does from 3:00pm to 4:00pm but he did share this: "Let's just say, when a fighter is pent up from having sex with no release, this increases his aggression and ferocity in the ring. This is why Manny is champ right now and this is why Floyd Mayweather's getting knocked out on Cinco de Mayo.." He was referring to his other charge, Manny Pacquiao, a ferocious fighter from the Phillipines and current lightweight champ.
Goodness. So he's nicknamed "The Golden Boy" before and during the fight, and "The Fire Hydrant" afterwards. If Manny Pacquiao Floyd Mayweather does indeed get knocked out, I hope he lands on his stomach. God knows what De La Hoya would be desperate enough to try.
Grease Me Up Woman, I'm Going In [Deuce of Davenport]
Mayweather Vs De la Hoya Training Camps [BlackSportsOnline.com]