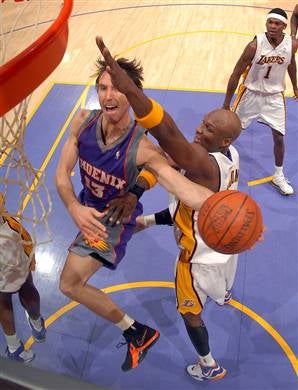 Notes on Sunday's games in the National Basektball Association ...
• The Bell Curve. In a format in which more than 50 percent of teams make the playoffs, is it conceivable that the Lakers will fail to make the cut? The Clippers trail the Lakers by 1 1/2 games for the eighth and final spot in the West (by one in the loss column). The Lakers have five games remaining; one against the Clippers. On Sunday, Raja Bell was 6-of-6 from 3-point range and had 22 points in the Suns' 115-107 win over the Lakers. Bell, of course, was 0-for-10 on 3s on Saturday against the Hornets. Kobe Bryant had 34 points.
• It's Iguodala Time. Your 76ers update: Four games behind the Magic for the final playoff berth, with six games to play. Andre Iguodala, 25 points in a 109-104 overtime win over the Hawks.
• Wade Is Back. Dwyane Wade came back from a 6 1/2-week layoff (12 points in 27 minutes), but it didn't help the Heat in a 111-103 OT loss to Charlotte, which got 30 points from Gerald Wallace.
• This Is Our Countrrryyyyy. Sure we've taken our lumps lately. But don't ever let anyone knock the USA; this is still a great nation ... a land where they deliver your Pistons playoff tickets right to your front door, complete with a side helping of optimism. On Sunday the Pistons held LeBron James to 20 points on 5-of-16 shooting in an 87-82 victory. Richard Hamilton scored 21 points for Detroit.