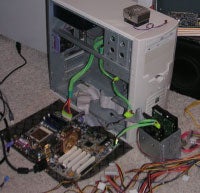 We've been using Yahoo for all our fantasy games for the last, oh, 10 years, so we weren't quite abreast of what was happening with ESPN's Fantasy Games, but it appears they're having all kinds of problems.
A system error in ESPN.com's Fantasy Baseball League has disrupted live scoring and roster moves since Tuesday. "We're fantasy players ourselves, and we recognize that it is not acceptable for our players to have anything short of a great experience," an ESPN.com spokesman, Paul Melvin, said in a written statement. "We also recognize that getting every problem resolved is what will ultimately satisfy our players."
This has been a common problem with ESPN's fantasy games in the past, but this might be the biggest problem yet. The rocker commercials are kind of funny, though. We now see where the budget all went to. The real mistake: Letting Schrutebag tell his listeners to attack the fantasy site. Whoops!
Disruption on ESPN.com [New York Times]