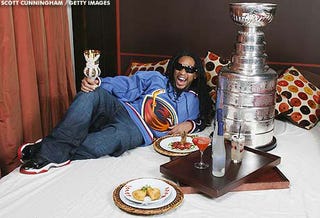 And you thought we forgot about hockey! Canuck, please!
The NHL Playoff pairings were set yesterday, with the games kicking off Wednesday night, and we figure, heck, it's time to start paying attention!
Since our St. Louis Blues have once again missed the playoffs — we have high, mostly uneducated hopes for next year — we have to pick a team to root for, and we're going with the Buffalo Sabres (have they really never won one?) in the Eastern Conference, and Calgary in the Western Conference, because we like our hockey teams Flaming!
We're gonna try to real hard to cover the NHL Playoffs appropriately, so hey: Let's hear your thoughts on what's going on. Somebody out there has to have both TSN and Versus, right?
NHL Announces 2007 Stanley Cup Playoffs Conference Quarterfinal Schedule [NHL.com]