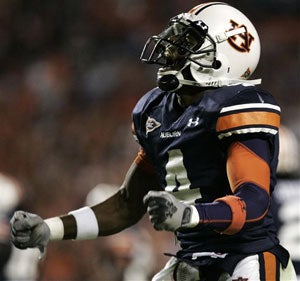 Every year, as the NFL Draft approaches, the results of each player's Wunderlic scores inevitably leak out. This appears to serve only one purpose: To allow us to mock athletes for being so stupid. This is, we believe, a perfectly healthy aspect of being a sports fan; we are so cognizant of our physical inferiority that to assert our intellectual advantages almost seems empowering.
Last year's what an idiot target was Vince Young, who had initially been reported to score a six before it was corrected as "16." This year's big winners: Weber State safety Bo Smith and Auburn cornerback David Irons, both of whom notched a four. The lowest score of all time was the "3" posted by former Ravens linebacker Roderick Green.
Here's the famous Wonderlic sample test, in case you feel the need to flex some mental superiority muscle this morning.
David Irons: Fore! Er, Four! [EDSBS]
Setting The Vince Young Record Straight [Deadspin]