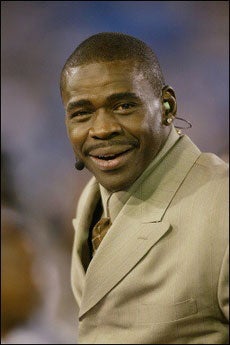 We haven't had a good Michael Irvin story in a while, and, frankly, we've missed him. (He's John Rocker's buddy, after all.) Anyway, this is a relatively minor key for him, but we've been so forlorn without him that we're including it, regardless: Irvin has been accused of assaulting a contractor.
Shawn Vandergrift filed a lawsuit Monday against Irvin in Denton County, claiming that the former player yelled at him and grabbed him during a December dispute over a final payment for the construction work. The suit claims that Vandergrift is permanently disabled by a hip condition and that he required medical attention as a result of being grabbed on the left arm during the confrontation.
As much as this surprises even us, we must side with Irvin on this one; sounds like he, at worst, grabbed the guy on the arm. (What does the hip condition have to do with anything again?) But this whole thing sounds like a front to us. "Contractor." "Payment." "Vandergrift." This is all about crack.