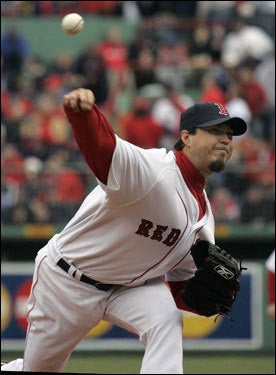 Notes from a day in baseball:
• Sure You Love The Sox. But Do They Love You Back? It began as most home openers do, with the a couple of numbers by Robert Goulet. It ended with a graphic pummeling of Jeff Weaver, the ejection of Jose Guillen for inciting to riot and a 14-3 win for the Red Sox over the Mariners. (Also, this kid is now totally busted). Jason Varitek and Kevin Youkilis each had three hits, and J.D. Drew homered and Josh Beckett (2-0) threw a two-hitter over seven innings, retiring his last 15 batters. The Mariners were coming off of four straight snow days in Cleveland. "We pulled out the whupping sticks today,'' Beckett said. "They've been off for a while." It was the first game for Weaver (0-1) since his win in the final game of the World Series for St. Louis over Detroit. He allowed seven runs, seven hits and two walks over two innings. Some fun in the eighth, as Guillen squared off against Boston reliever Brendan Donnelly after striking out on three pitches, with the benches clearing, to little effect. Guillen was ejected. Then Donnelly hit the next batter, Kenji Johjima, and was ejected. Donnelly said it was an accident, which leads to our quote of the day, by Guillen: "This goes way back since I was with the Angels. (I) caught him cheating once and, unfortunately, he keeps running his mouth like he's going to hit me. You've got to be man enough to hit me and not hit a catcher.''
• Dynasty! What's the only thing better than an 11-inning Cardinals victory? A 12-inning Cardinals victory! (Hey, who threw that brick?!) The tempest that is the Redbirds won 3-2 over the Pirates, as Gary Bennett scored on a sacrifice fly for the winning run in the 12th. Jason Bay's throw to the plate on a short fly beat Bennett, only to have catcher Ronny Paulino drop the ball.
• A-Rod Will Crush Your Weak Cheese. Alex Rodriguez has announced plans to homer in every game until the end of the season. He hit his sixth in seven games — including the past four straight — on Tuesday (hello, Barry Bonds!) in the Yankees' 10-1 victory over Minnesota. Boof Bonser update: He gave up a three-run homer to Johnny Damon in the fifth.
• National Emergency. Wow, not even two full weeks into the season, and the Washington Nationals have already been slapped with the "hapless" tag. We believe that's a major league record. From AP: Tim Hudson pitched three-hit ball over seven innings and Jeff Francouer drove in five runs, sending the Atlanta Braves to an 8-0 victory Tuesday night that extended the hapless Nationals' losing streak to five. Harsh. Well, Washington (1-7) has been outscored 53-18 so far.
• Just Like Home. The Indians and Angels had to break into the Brewers' Miller Park to play their game on Tuesday, with Cleveland winning 7-6 before about 20,000 people who were just walking by and said "Hey, they're playing a game in here! Let's watch." Cleveland's three-game series against the Angels was moved to Milwaukee after a snowstorm wiped out four scheduled games against the Mariners. C.C. Sabathia (2-0) gave up one earned run and struck out seven in seven innings.