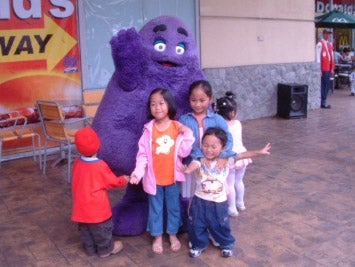 Notes on Tuesday's games in the National Basketball Association ...
• Controversy On A Sesame Seed Bun. We are sad to report yet another scandal involving the troubled Mayor McCheese administration, as the Chicago Bulls were accused on Tuesday of running up the score against the New York Knicks in order to provide their fans with free Big Macs. The Bulls took control of the game early, eventually winning 98-69. But Chicago took three 3-pointers in the final minute of the game, and Malik Allen missed a layup with 10 seconds left, leading to the piling-on charges. After the game, Nate Robinson, Jerome James and Steve Francis confronted the Bulls' Tyrus Thomas, and James had to be restrained from going after Thomas in the hallway. "I think they were definitely trying to rub it in," said Eddy Curry, who spent his first four seasons with the Bulls. "But we'll see them next year." Fans get free Big Macs if the Bulls score 100 points. "We just wanted to do something for the fans," said Chicago's Chris Duhon. "I don't cook, so I wanted one myself. We certainly didn't mean any disrespect." (We love that quote.) The Bulls are second in the Eastern Conference, at 47-32, leading fifth-place Cleveland by a half-game and Atlantic Division winner Toronto by 1 . Chicago owns the tiebreaker over both teams and has clinched home-court advantage in the first round of the playoffs.
• NOOCH Us To Make Sure We're Awake. And coming up on your left, folks, it's NOOCH, on their way to the playoffs. Wah ...? David West's 33 points led the Hornets 103-100 OT win over the Los Angeles Clippers, bringing New Orleans/Oklahoma City within one game of the eighth and final playoff berth in the Western Conference. Right now Golden State has that spot, with the Clippers a half-game back in ninth.
• Wizard World. The Wizards are in the playoffs! But they still lost on Tuesday, 96-92 to the Nets, having backed in to the postseason by virtue of the 76ers beating the Pacers. Washington has lost five straight, and is without Gilbert Arenas for the rest of the season. But hey, playoffs! (Cough).
• When The Charlotte Bobcats Go Bob Bob Bobbin' Along. It's looking like no home court advantage for you, Miami Heat! With Dwyane Wade still at half speed, Gerald Wallace had 24 points and 10 rebounds to lead the Bobcats to a 92-82 win. The loss left the Heat three games behind idle Toronto with four games remaining in the race for home-court advantage in the first round of the playoffs.