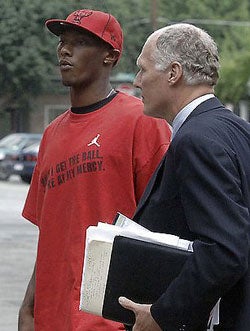 The Sports Oasis brings up an excellent point regarding the suspension of Bengals wide receiver Chris Henry: How much money he will lose will depend entirely on when the Bengals' bye week is.
With the schedule postponed a couple of weeks this year, for whatever reason (they're being released at 1 p.m. ET today), Henry's gonna have to wait to see if his eight-game suspension becomes nine weeks worth of pay. If the Bengals have their bye week in the first eight weeks of the season, it's gonna cost him another week's worth of salary, which is $25,588.24. (That seems low, doesn't it? We mean, for a professional athlete. Doesn't A-Rod pretty much make that per at-bat?)
Anyway, one would expect Henry to be keeping a close eye on the NFL schedule ... though we suspect he might have enough problems right now.

NFL Delayed Schedule Release Costing Chris Henry $25k? [The Sports Oasis]