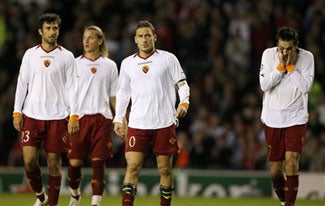 David Hirshey writes regularly about soccer for Deadspin.
ManU's epic 7-1 dickwhipping of Roma yesterday reminded me of a particularly gruesome torture scene on "24". First, the Italians were jolted with defibrillator paddles, in this case three goals within an electrifying eight-minute span early in the opening half. Then they were poked by a smoking hot scalpel otherwise known as Christiano Ronaldo, who scored twice within five minutes. Finally, in the 81st minute when the substitute left-back Patrice Evra — Patrice Evra, for God's sake! — lashed in a near-post drive, Roma — not to mention the once formidable reputation of Serie A — was hung on a hook like a carcass in a butcher shop for all the soccer world to gaze at in a mixture of awe and horror.
And, believe me, I felt their pain. I am, after all, an Arsenal fan, and I have been raised to believe that ManU is the embodiment of all that is evil in the universe. Of course, the last few years have taught me that is nonsense, and that ManU is a mere irritant compared to those scum-sucking Chelsea mercenaries and their preening Fayed-like boss, Jose Mourinho. It took Jack Bauer garrotting a steel chain around the "24" villain's neck to stop him from unleashing hell on earth, and now I fear it will require an equally heroic effort to keep ManU and Chelsea from meeting in the Champion's League final after Essien's wonder strike at the death kept the Blues alive.
(more after the jump)
Realistically, only Liverpool — does anyone fancy Milan's chances after yesterday? — stands in the way of that colossal showdown, and I don't care if Crouch is an ungainly bastard and Bellamy a putter-wielding psycho, I say, c'mon you Reds! Yes, I've been reduced to rooting for Liverpool, because, if you haven't noticed, Arsenal is the only one of the so-called Big Four not in the semi-finals. But hey, if we beat Bolton this weekend, we still have a shot at fourth place in the Premiership. Oh, I forgot, you can't win if you don't score goals, and the Gunners have been firing more blanks this season than Howard K. Stern.
But I am not here to wallow in Arsenal's sorry-ass plight. I am here to give ManU its props for what may have been the greatest exhibition of attacking football since HarperCollins United sliced and diced the New York Times 5-0 on four goals from former Columbia All-America Tommy McMenemy. But seriously, the impudent ease with which ManU shredded the Roma defense conjured memories of another glorious night and begs the question: Is this current ManU juggernaut better than the legendary treble-winning side of 1999? And for the answer, I turned to my friend Luke Dempsey, whose children proudly bear the middle names of Solskjaer and Cantona. Here's his breakdown:
May 22, 1999, was as much about the players who got us to the final as it was those who actually played on the night. Keane single-handedly won the semi-final second leg in Italy — don't forget we were 2-0 down in that game, and he got an early yellow so knew he'd miss the final, but he ran on every blade of grass to get us to Spain. Scholes had had a great season too, but he didn't play in the Nou Camp. (We started with Blomqvist in midfield. Ahem.) That said, Beckham was at his very best that year — if you watch the last 10 minutes of the final (as I still do every other weekend eight years on), he basically won the game for us. We had Schmeichel in goal, too; Van der Saha [sic.] scares me.
But now? Rooney and Ronaldo (vs. Cole and Yorke) and Giggs (vs. well, er, Giggs) win the comparison easily, and even Smith was scarily good. Carrick showed he's the best passer currently playing in English football (and he scored two cracking goals — to my eye he's the central midfield version of Beckham without the set-pieces). Scholes didn't play, redux; Fletcher came in and will be unlucky to have to sit down for the semifinals. Our back four, even with John O'Pie on the right, was excellent — Wes Brown is back to his best, and Heinze looked like he cared again. Our bench last night, though, was Richardson (lord save us), the legendary Solskjaer, Evra — oh, and Eagles, Dong and Cathcart. In Barcelona we brought on Sheringham and Solskjaer, both of whom scored. So the starting 11 now is better than eight years ago — but can Smith and Fletcher and Brown and the rest of the bench play like that again? (Don't underestimate how crap Roma were at the back, either. They gave up after Rooney's goal.)

But there's one other thing that's more significant: 1999's team won three trophies — we've won squat. And in 1999 there wasn't a formidable opponent standing in our way. Much as Chelsea play the worst kind of boring, hyper-fit soccer, they barely ever lose. We could play them three times in May and win nothing. That's the greatest test.
As for me, I'm about to board a plane to London. Back in February, I had booked a non-refundable ticket thinking I would catch Arsenal's Champion League or FA Cup match. Instead, I get fuckin' Bolton. Arrrgh!